Immense New Advertising Opportunity
Starting April 1, 2018, designCraft will offer a huge innovation in advertising: mini billboards! Grab attention in a big way while saving monumental amounts of money compared to standard billboards. Don't miss this colossal opportunity to make a gargantuan impact on your marketing efforts.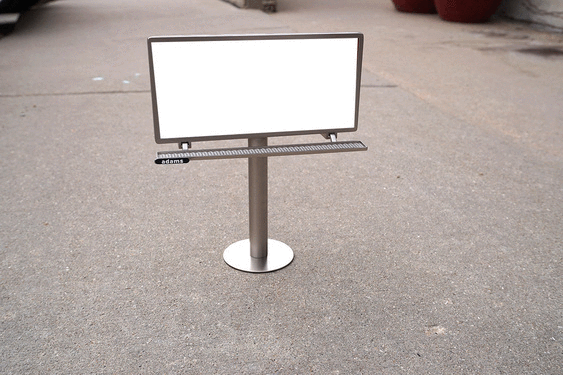 Dedicated Staff
designCraft hired two new dedicated workers who are ideally suited for our small but important mini billboard division. In addition, we purchased a pickup truck and specialized equipment for speedy installations. Due to our enormous investment in infrastructure and the proprietary production process that designCraft Advertising co-developed with Adams Outdoor Advertising, we can now offer these high-quality and high-durability billboards throughout the Greater Madison region.
Big Benefits
Need to reach that specific customer sitting in section T, row 20, seat 5 at the next Badger game? Mini billboards can do that!
Wish you could reach customers sitting at the very end of the Memorial Union pier? Mini billboards are the answer!
Want to advertise on the corner table at L'Etoile? Mini billboards get you there (reservation required).
Advantages of mini billboards from designCraft Advertising:
Economical. Special discount when you buy by the dozen!
So easy to move you can follow your audience around the block
Double as a windbreak for small seedlings
Can be used indoors or outdoors
Free repair/replacement for billboards that are accidentally stepped on
Full-size Case Studies
Review the case studies below to see how actual designCraft clients experienced a massive increase in sales from our mini billboards. No target is too small! We can adjust your messaging to reach the finest niche market.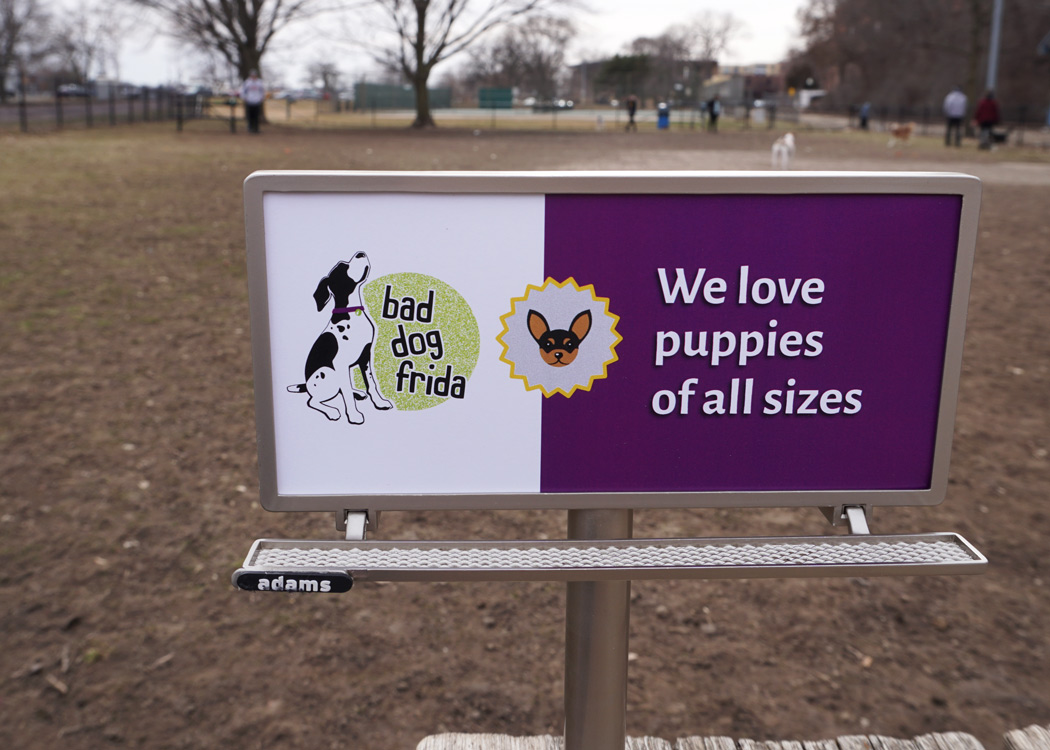 bad dog frida needed to reach their target market at dog parks. Mini billboards helped get their message in front of their customers' long, wet noses (though their customers did have a tendency to chew on the ads).
Madison Community Foundation found that many of their donors ride their bikes to work, but there was no way to advertise on Madison's bike paths. Despite getting run over several times, their mini billboard on the bike path helped Madison Community Foundation increase donations from bicyclists by 500 percent.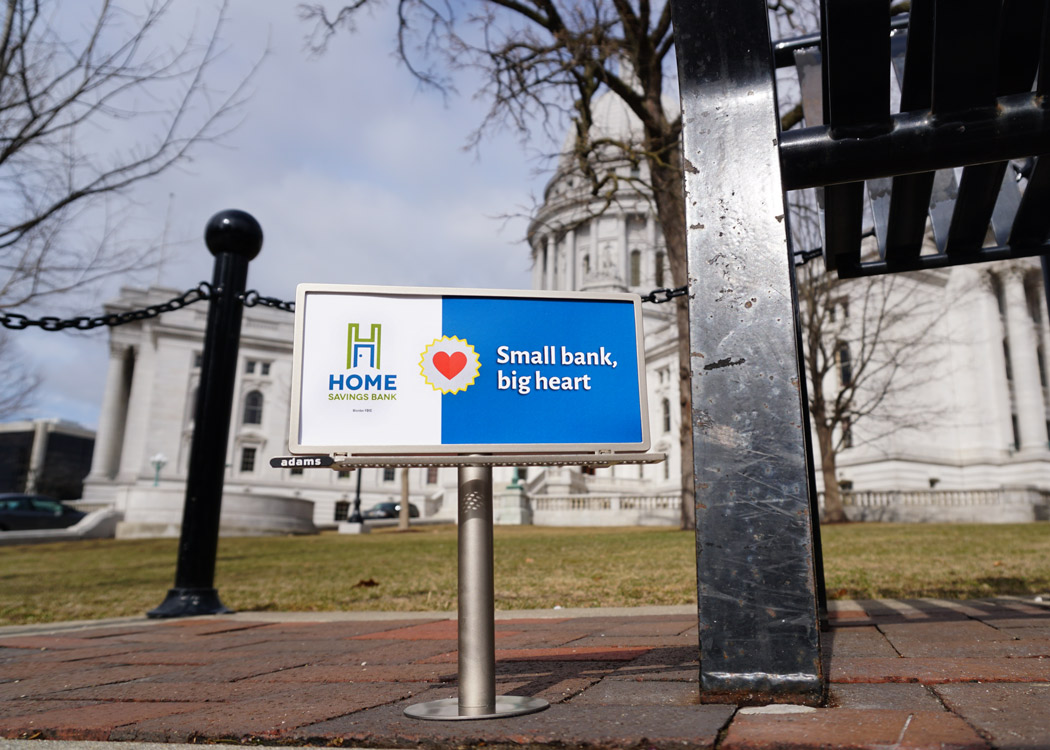 Home Savings Bank wanted to put a standard billboard on top of their downtown office, but due to Madison's overly restrictive sign codes the project couldn't proceed. Luckily, mini billboards provided a solution. Home Savings Bank now has a billboard across the street from its office directly on the Capitol lawn (as long as the grass doesn't grow too high).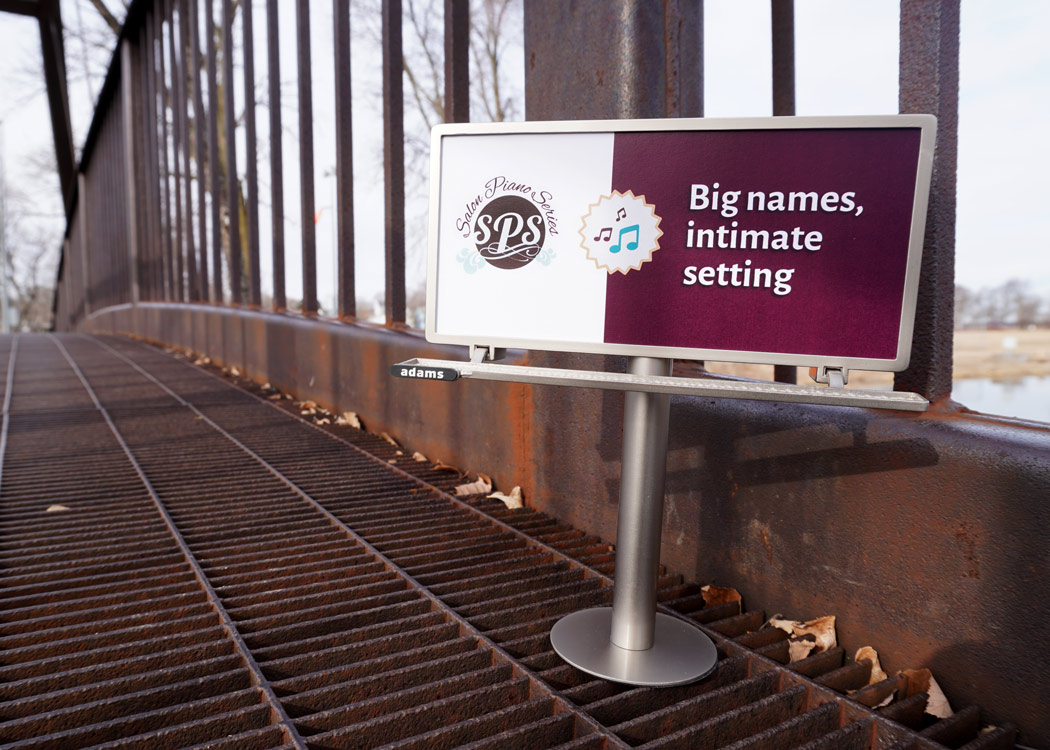 Salon Piano Series found that people who enjoy classical music also enjoy walking in Tenney Park, but a normal billboard would destroy the park's natural beauty. With a mini billboard placed on the park's iconic bridge, customers are literally tripping over their ads, and Salon Piano Series has increased sales for their latest concert (featuring John O'Conor on May 12).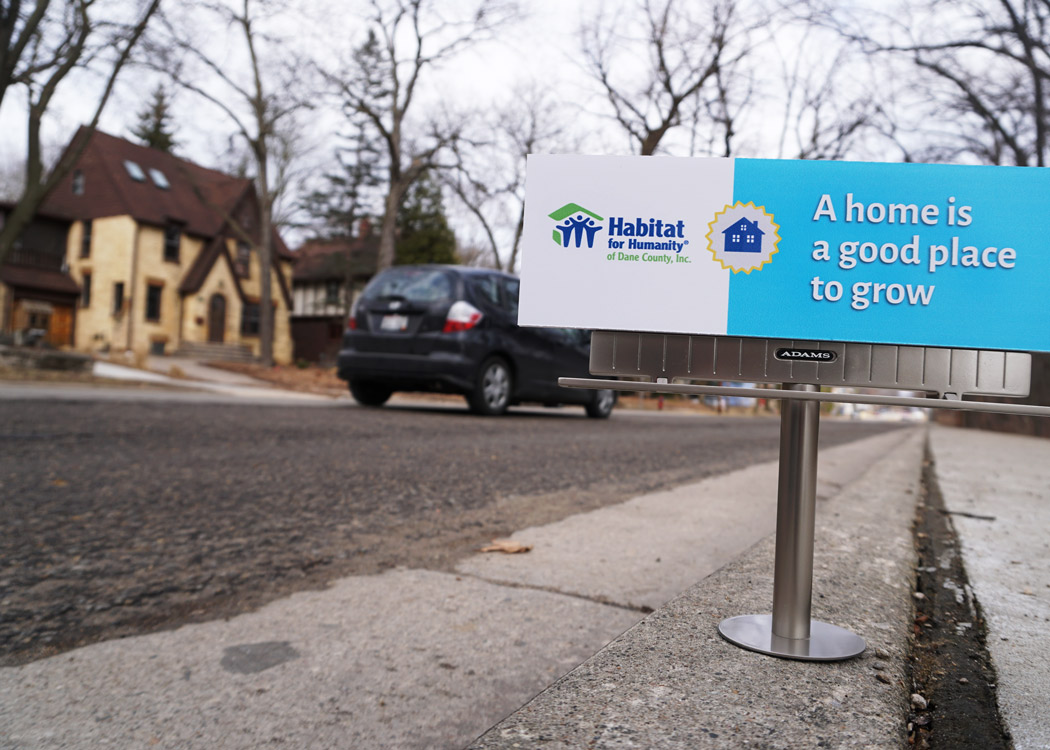 Habitat for Humanity of Dane County builds homes from the ground up so they wanted their advertising to start from the ground up as well. Standard billboards were often too high in the air for their needs, so they turned to mini billboards to get their advertising on terra firma.
Mini Billboard Sizes & Pricing
Billboard Style
Actual Size
Design Fee
Installation Fee
(per billboard)
Installation Fee
(per dozen billboards)
Baby Bulletin Billboard
12 inches x 3 ¾ inches
135¢
47¢
451¢

(Save 113¢!)

Itty-bitty EcoBillboard
7 7⁄8 inches x 3 ¾ inches
122¢
42¢
403¢

(Save 101¢!)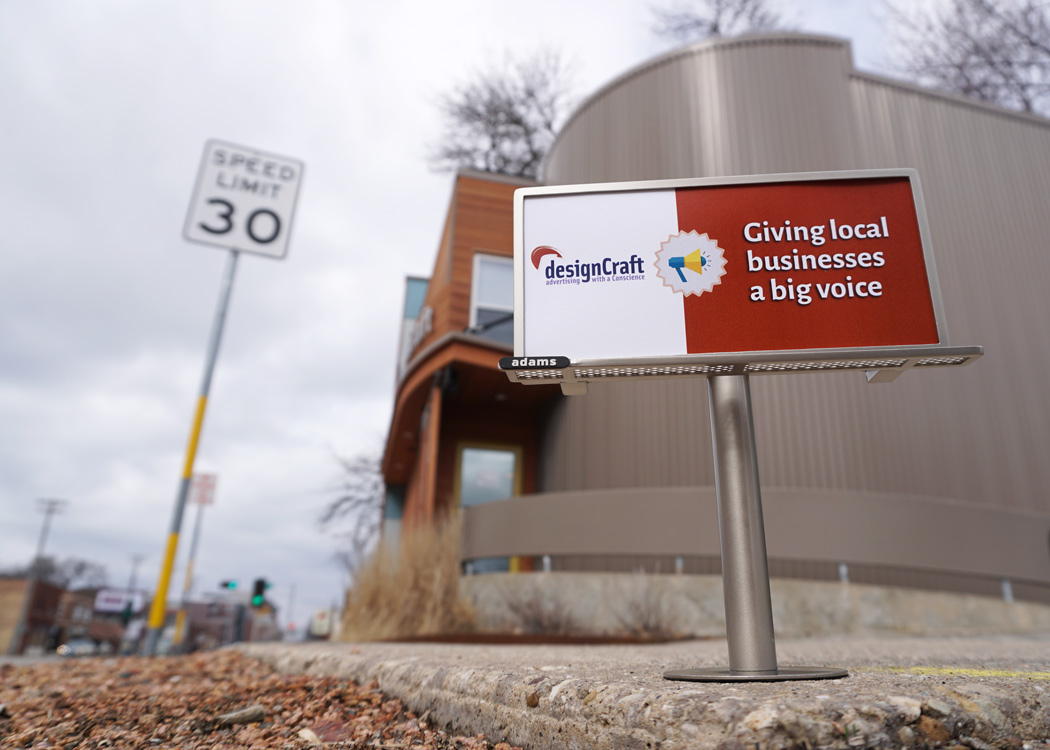 If you're ready to make a gigantic impact on your sales with mini billboards, contact designCraft today.
"This is a billboard I support whole-heartedly. Mini billboards can make a big difference in the City of Madison."
Contact the mini billboard team at designCraft Advertising at: 608-251-1809 or conscience@designcraftadvertising.com